View your Outlook Contacts, Calendars, Tasks and Notes on your iPod.
iPodSync is a tool for Windows users to keep your Microsoft Outlook calendar. contact, tasks and notes synchronized between your PC and your iPod. iPod sync also sync weather forecasts and news from the web. iPodSync turns your iPod into PDA.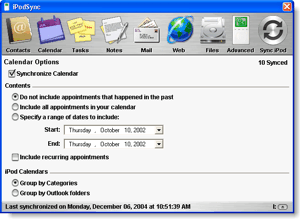 You specify what information you want to sync and iPodSync does the rest. No complicated configuration or confusing interface here! iPodSync's Aqua-style GUI would even make a Mac user feel at home.
With iPodSync you can:
Transfer Outlook Contacts to your iPod

Transfer Outlook Appointments to your iPod

Transfer Outlook Tasks to your iPod

Transfer Outlook Notes to your iPod

Transfer Outlook eMail to your iPod

Transfer weather forecasts to your iPod

Transfer web news feeds to your iPod

Transfer pictures and voice recording from your iPod to your PC.
What users are saying:
God, what can I say – iPodSync does everything that I could want it to do and more. My outlook info comes out clearly and perfectly organized. Since I really don't need all of the "extras" with enhanced PDA's, I find that your product has given me the solution for basically everything I need. I have my contacts, calendar, notes, etc, plus oodles of MP3's
Anyway, thanks for a fabulous product!!!
Steve Boggs
Gaffney, Couth Carolina
"iPodSync is incredible!! Install this simple program and all of your calendar entries, contacts, notes, and tasks are synced to your iPod with no fuss, muss, or bother.
Can't believe how simple and how beneficial. Best $19 Australian or $12.99 US ever spent.
I downloaded the trial version, installed it, used it, and immediately bought it.
Trust me on this one - DO IT! "
Jay D. Gould
Burnley Victoria, Australia
"What an amazing piece of software this is!!
It's astounding that a small software program could simplify and organize your life in an instant.
This software is worth its weight in gold!!
It's a simple easy to use program and works seamlessly with Microsoft Outlook.
The technical support is the best I ever had and the creator is very conscientious!!
Overall ..a very pleasant experience that has impacted my life immediately."
Barry Alan Kaplan
Randolph, New Jersey
"iPodSync is the best product that I have found to copy my Outlook contacts and calendar data to my iPod. The product works wonderfully, providing me with a One-Click way to take my data with me. Sales and technical supports is attentive and speedy! I strongly recommend iPodSync to any iPod owner."
Jason Buranen,
Onalaska, Wisconsin
Love the iPod. Love your software. I've chucked my PDA overboard.
Kimberly Gregory,
Carbondale, IL
What's New in 2.22
| | |
| --- | --- |
| ● | Added new file synchronization functionality and changed media options to files options. |
| ● | New RSS interface. |
| ● | Improved progress display |
| ● | Write to iPod using unicode file format to handle special characters. |
| ● | Added iPod info to about screen. |
| ● | Fixed bug saving rss news feeds. |
| ● | Fixed bug sometimes not syncing non-recurring appointments. |
| ● | Added diagnostic logging. |
NOTE: Please ensure that your system meets the system requirements. I strongly recommend downloading the trial version before purchasing the full version.
System Requirements
IPodSync has been tested and approved on the following platforms:
●
iPod Generations 1 - 4,
Mini and iPod photo
●
Windows ME, Windows 2000, Windows XP
●
Outlook 2000, Outlook XP, Outlook 2003
Outlook Express is NOT supported
●
XPlay if you have a Mac formatted iPod
●
Automatically repair missing data folders on iPod.
If you are running iPodSync on a different configuration and everything is functional, please let me know and I'll add it to the list.
Translation
Anyone is welcome to submit a correction to the translations listed here
Tips
Because the iPod presents song information strictly using MP3 tags, it is important to make sure your tags are correct and compatible. I found a great program called eMusic Tag Editor that is very good at editing MP3 tags, both for individual files and in batch. Check it out here.